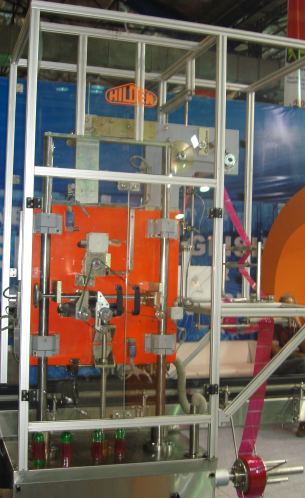 Sleeve LABELLER Machine, Stand Alone Label Applicator machine
Sleeve LABELLER is employed to use the Sleeve LABELLERonto containers. This sleeve has many uses, including in packaging of foods, beverages, tending products and medical equipment's. A number of the key features of this equipment are:
Sleeve LABELLERs yield the utilization of up to 900 mm wide lay flat film. The equipment can therefore be wont to sleeve virtually any multipack on the present market. The machine's low cost and easy use are recognized. This enables for more flexibility and efficiency. The Sleeve LABELLER Bottle Labeller offers several benefits:
Fully mechanized, fully automated equipment
Thanks to the "No bottle, No sleeve" operation, wastage is eliminated.
Equipment can handle plastic and glass containers.
Operation speeds can vary between 50 and 300 bottles per hour.
For different container types, it's height adjustment system
To make the method efficient, the Sleeve LABELLER bottles may be synchronized with tunnel.
Dependability. The equipment is continually being improved through research and development.
Flexibility; the incorporation the electro- pneumatic controller system allows adjustments to multiple container sizes without the requirement for lengthy changeovers.
Process expansion; the speed of operation will be easily increased when needed using automated controls. They also help to eliminate redundancy.

Silent Features
The machine can run sleeves in roll structure and is fit for applying full body sleeve or a sleeve at a specific area on the container.
The steam burrow comes following the sleeving machine, which shrivels the mark consummately onto the jug taking the state of the compartment with no wrinkles. Steam is controlled monetarily by controlled valves and can be aimed at the name absolutely. Another choice is a hot air framework where steam isn't accessible.
Machine is well guarded with interlocking door safeties.
Interactive intelligence by means of a huge TFT Color touch screen with all necessary alerts via real time clock & trouble shooting information.
SMARTLABEL – HOTGLUE – REEL FED LABELLERS (versatile machine with multimodal option)

NO.

MODEL

BOTTLE SHAPE

DESCRIPTION

SPEED

1

SLEEVER120

ROUND/FLAT

1 SERVO AXIS CAN HANDLE FLAT/ROUND SHAPES BOTTLES.

120 BPM

2

SLEEVER 200

ROUND/FLAT

2 SERVO AXIS ONE FOR CUTTER OTHER FOR SLEEVE INDEXING

200 BPM

3

SLEEVER300

ROUND/FLAT

3 SERVO AXIS FOR CUTTER,SLEEVE INDEXING & UNWIND

300 BPM