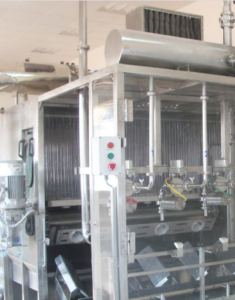 Features
Machines from one to ten inches wide
Many jetting processes are available, including hot, chemical or product water washes
Automated loading and unloading
Water can be used many times before it drains
Brushes that can use with jets might also be included in the jets.
You can fill either by flow meter or time-based.
Pneumatic pistons or powered slat chains can automate dispensing
Servicing and maintenance are simple
SMART20 LITER JAR
NO.
Specification
 
1
NO OF HEADS
1 TO 12
2
DIMENSION
DEPENDS ON CAPACITY
3
MAT. OF CONSTRUCTION
304 BODY
4
PRODUCT CONTACT PARTS
304 / 316 (OPTION)
5
AIR CONSUMPTION
4 BAR – 5 CFM
6
POWER RATING
8 KW
7
HEATING
ELECTRICAL OR STREAM
8
TIME PER JET
25 SEC.
9
JETTING
HOT, COLD, CHEMICAL AND OR COMBINATION
Function
Before the jars are put into the machine, a series of exterior and internal jets wash them. After being washed, the pots are then placed on the conveyor. The jars are then covered with a cap and sealed. Contact parts for the product are available in 316 if required. A stand-alone unit can pre-wash filthy containers. The machine features powerful jets and external brushes as well as an inner washer and spray ball.
Working
Jars are taken to the washer, counted, stopped, and then loaded into the pouch carrier. That transports inverted bottles through the machine. The inside and outside of the jars are scrubbed by a series of jets coming from different tanks. The jars are then subjected to hot, chemical, and freshwater washing cycles. Between wash cycles, it is possible to drain. After the final freshwater has been recalculated, it is used three times before being depleted. The jars are then re-inverted. , they are discharged onto a conveyor. The filler removes the cap and can be pressed with a pneumatic piston or a powered sliding conveyor. Every pump comes with filtering.
Controls & Safeties
A timer can index the main gear motor. The PLC programs all sequences for load and discharge. The PLC is equipped with safety features to ensure smooth, trouble-free operation.